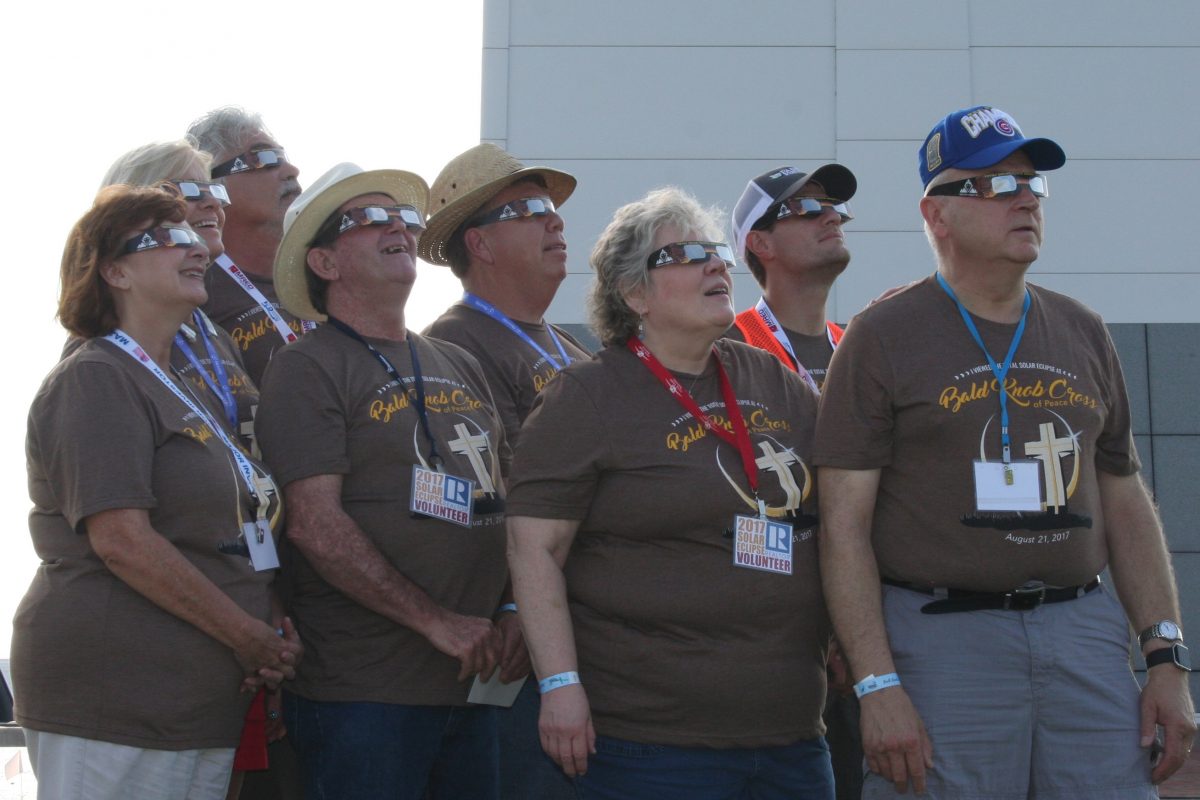 Egyptian Board of REALTORS® volunteers at Bald Knob Cross
Egyptian Board of REALTORS® volunteers helped hundreds of people from all over the United States enjoy the view of the eclipse at Bald Knob Mountain, south of Carbondale within the path of the eclipse's longest duration point.
Visitors flocked to the mountain, which is 1034 feet above sea level and in the path of totality,for a 360-degree unobstructed view of the event.
"More than 730 people watched the eclipse at the Bald Knob Cross of Peace," said Christi Vineyard, administrative assistant for the Egyptian Board of REALTORS®. "We saw license plates from California, Texas, New York, Colorado, Florida and Wisconsin. There was even a group from Australia. There were probably others, that is just what I witnessed while directing traffic early that morning for a couple of hours."
EBOR became involved in the project many months ago. EBOR pitched in, providing seed money for shirts and eclipse glasses. An affiliate member donated 1,500 bottles of water for the event. Volunteers assisted with parking, and water distribution at Bald Knob Mountain to the eclipse enthusiasts.
"We wanted visitors to feel welcome and stay hydrated as they watched this astronomical event in beautiful Southern Illinois," Vineyard said.
Volunteers included: Cindy Bevis, Teresa Camarato, Paul Coons, Bonnie Flynn, Ron Flynn, Dan Hassard, Marianne James, Mike McDonald, Shawn Stanton, Connie Stellhorn, Phil Chiles of Springfield, Peggy Chiles of Springfield, Palmer and Vineyard. Emma Davis of Farmers Bank, one of the EBOR affiliates, donated bottled water on behalf of the bank.
Egyptian Board of REALTORS® also donated nearly 6,000 eclipse glasses to 13 area schools so students could watch and learn about the solar eclipse.
"Not only did we want to help with Bald Knob Cross of Peace's (fundraising) efforts, we also wanted to provide area schools the tools allowing students to safely view this unforgettable event," Egyptian Board of REALTORS® Association Executive, Charay Palmer said. "We want to show members of the community that we are not just interested in buying and selling real estate. We care about what's going on in our communities."
The partial phase began just before noon. At approximately 1:20 p.m. the moon completely covered the sun above Bald Knob Cross for two minutes and 38 seconds.
"I thought the eclipse was awesome," said Phil Chiles. "Day became night. What was amazing was how light it still was when only a small segment of the sun was visible."