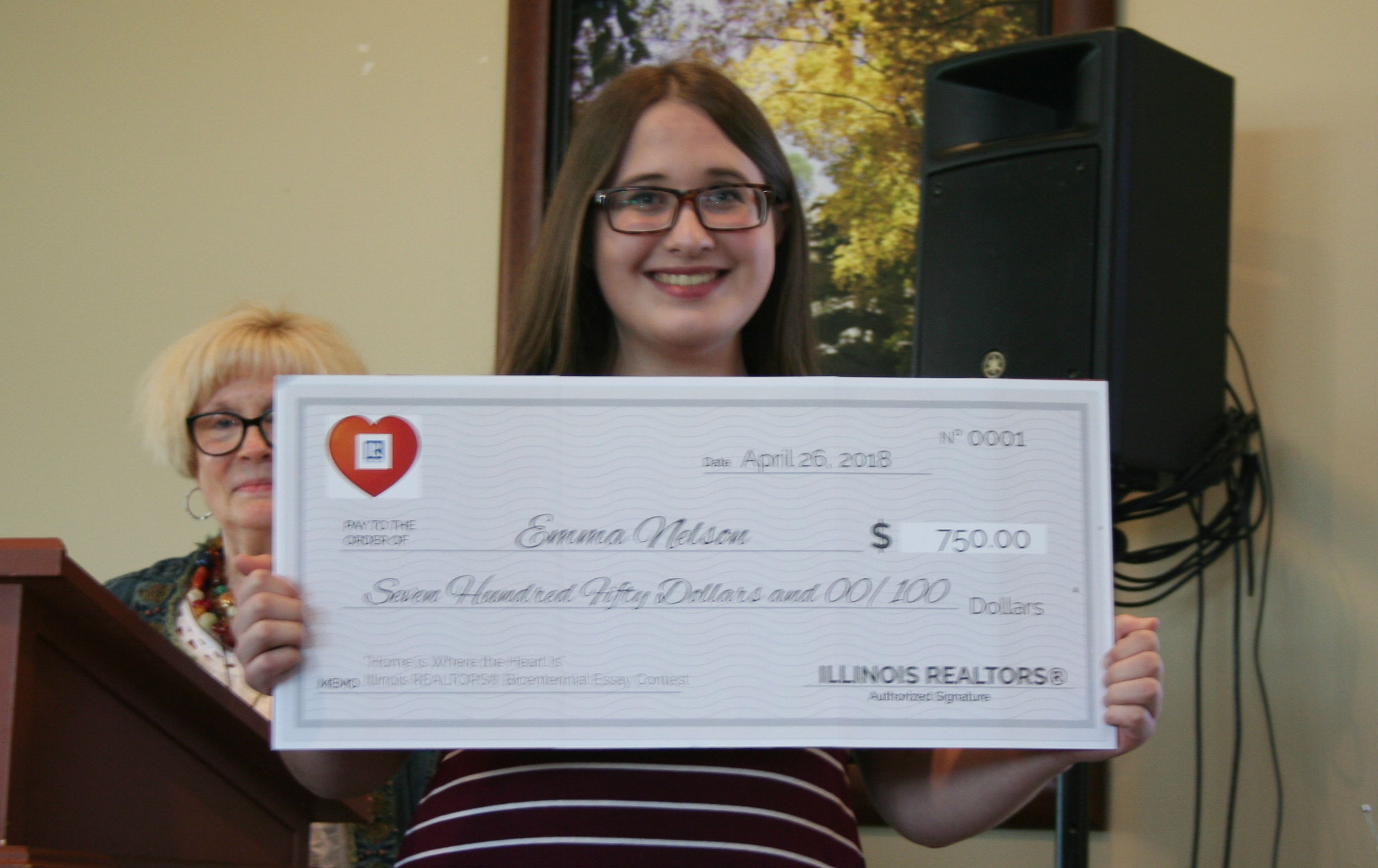 Southern Illinois Senior
wins
Academic
Scholarship in
Illinois REALTORS® Bicentennial Essay Contest
A Southern Illinois area high school student was among 23 scholarship winners in an essay contest that celebrates Illinois' bicentennial.
Emma Nelson a home-schooled senior of Brookport, IL was awarded $750 toward academic expenses by submitting an essay on the theme "Home is Where the Heart Is." Her entry was selected from among more than 450 essays submitted as part of the contest sponsored by Illinois REALTORS® as part of the association's celebration of the state's 200th birthday. (For a full list of winners, see page 2)
"We are so pleased to see the great talent from high school students throughout the state and most of all their interest in the Illinois Bicentennial," said Vicky Turner, CRS, SRS, GRI, a Dixon REALTOR® and chair of the Illinois REALTORS® Bicentennial Task Force. "Both the quality and the quantity of the essays received strongly show the strength of our youth in Illinois and reinforce the importance this state plays in their lives."
Nelson's entry was judged a winner by a 10-member selection committee. In all, the association's Bicentennial Task Force awarded one $1,000 scholarship, 11 scholarships for $750 and 11 scholarships for $250. A full list of winners can be found at IllinoisRealtors.org/Bicentennial.
"It was a pleasure to award this scholarship to such a fine young lady.  She wrote a beautiful essay about the memories she has made in her ranch-style home, which holds a special place in her heart," said Egyptian Board of REALTORS® representative.
The essay contest is one of several ways Illinois REALTORS®' members are marking the state's 200th birthday. Twenty-nine Local REALTOR® associations have undertaken service projects and fundraising efforts for historic properties throughout Illinois. Egyptian Board of REALTORS®provided some of the funding for the storyboards that tell the history of Bald Knob Cross.
On Aug. 26, the state association plans to open Bicentennial Plaza – A REALTOR® Community Partnership in Springfield. The pedestrian walkway which links Springfield's historic sites will feature interpretive exhibits of people, places and events which connect with Abraham Lincoln's vision for a nation of equal opportunity for all.
The Plaza's grand opening is a Signature Event of the state's Bicentennial Commission's celebration of the birthday milestone.
Illinois REALTORS® is one of the state's largest trade associations, representing more than 47,000 members engaged in all aspects of the real estate business.
Illinois REALTORS® Bicentennial Essay Contest winners
Essay finalist: $1,000 
•
Hannah Young, 
Wheaton Academy, West Chicago
Essay finalist: $750: 
•
Gabrielle Allen,
 Warrensburg-Latham High School, Warrensburg
•
Jade 
Bellairs
, Woodstock High School, Woodstock
•
Bailey Brooks, 
Forreston
 Junior/Senior High School, 
Forreston
•
Megan Coakley
, Grant Community High School, Fox Lake 
•
Dillon Davey
, Barrington High School, Barrington
•
Kennedy Green
, Sacred Heart-Griffin, Springfield
•
Emma Nelson
, homeschool student, 
Brookport
•
Cooper Peterson
, Glenwood High School, Chatham 
•
Amber Tomlin
, Heyworth High School, Heyworth
•
Clare Turano
, Willows Academy, Des Plaines
•
Camilla Vazquez
, William
Fremd
High School, Palatine
Essay finalist: $250: 
•
Kolten 
Conklen
, Sterling High School, Sterling 
•
Miranda 
Dianovsky
, The Chicago High School for the Arts, Chicago
•
Sydney 
Minssen
, Prophetstown High School, Prophetstown 
•
Michael Murray
, Joliet Catholic Academy, Joliet 
•
Cecilia Nam
, Vernon Hills High School, Vernon Hills 
•
MacKenzie
 Orozco, 
Belvidere North High School, Belvidere
•
Andrew
Ottoson
, Waterloo High School, Waterloo
•
Heidie
Raine
, Byron High School, Byron 
•
Kylee
Rus
,
 Sterling High School, Sterling
•
Melissa Singleton, 
Mahomet-Seymour High School, Mahomet 
•
Ashley 
Wagge
, Manteno High School, Manteno