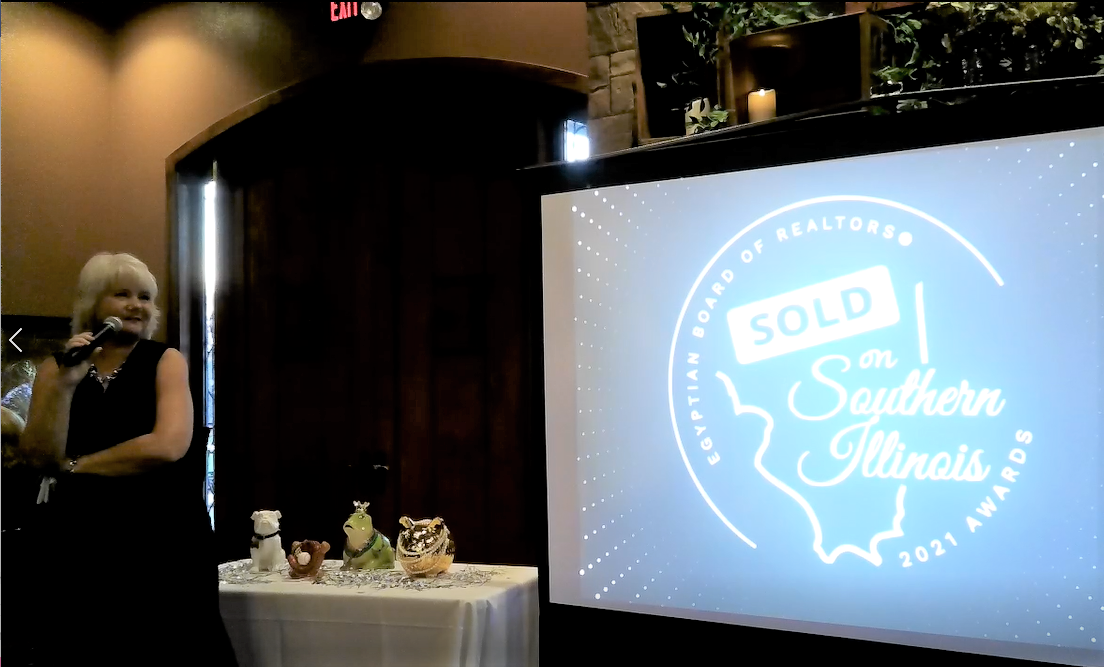 Over 100 EBOR members attended the Sold on Southern Illinois Awards Reception Friday night at Legend's at Walkers Bluff to celebrate their success in 2021.
The event was presented by the EBOR Awards Committee – Committee Chair Ayn Bartok along with Committee Members Patti Anderton, Tammy Kissing, Kasi Stunson, Kathy Volkening and Marci Watson.
Nearly 200 EBOR members received an award, selling equal to or greater than 15 units or $1 million in sales. Eleven members received the highest award, selling greater than or equal to 80 units or $25 million – Darlene Baltzell Of Rod Snow, Ayn Bartok of All In One Real Estate, Bob Davenport of RE/MAX Realty Central, Daniel Harshbarger of Keller Williams Pinnacle, Lisa McKinney of C21 All Pro Real Estate, Leslie Pankey of Five Star Realty, Christy Powers of Property With TLC, Stewart Weisenberger of Farmer & Co. Real Estate, Phil Wiley of Wiley Realty Group, Kimberly Wilkins of RE/Max Advantage and Hope Williams of RE/MAX Elite.   
Traveling awards were also presented. Linda Holt of CENTURY 21 House of Realty received The Dog for the lowest residential sale recorded in the MLS. Anna Lange of Somer Real Estate received The Golden Pig for the highest residential sale recorded in the MLS. Tyson Wyman of Farmer & Co. Real Estate received The Frog Prince award for the most unusual transaction.
Christy Traylor of Buy Home Realty was named Rookie of the Year. She was one of five nominees including Andrea Baker of King City Properties, Jessica Lindhorst and Kim DeSett of VIP Realty and Taylor Baker of Infinity Realty of Southern Illinois.
The event was made possible by the following sponsors  – US Bank, Kotner Title, Doma, Bank of Herrin, Palmer Abstract, Title Professionals, First Mid Bank & Trust and EBOR's top Annual Sponsors – Famers State Bank, Regions, Legence Bank and First Southern Bank.
Slide Show displayed at event: