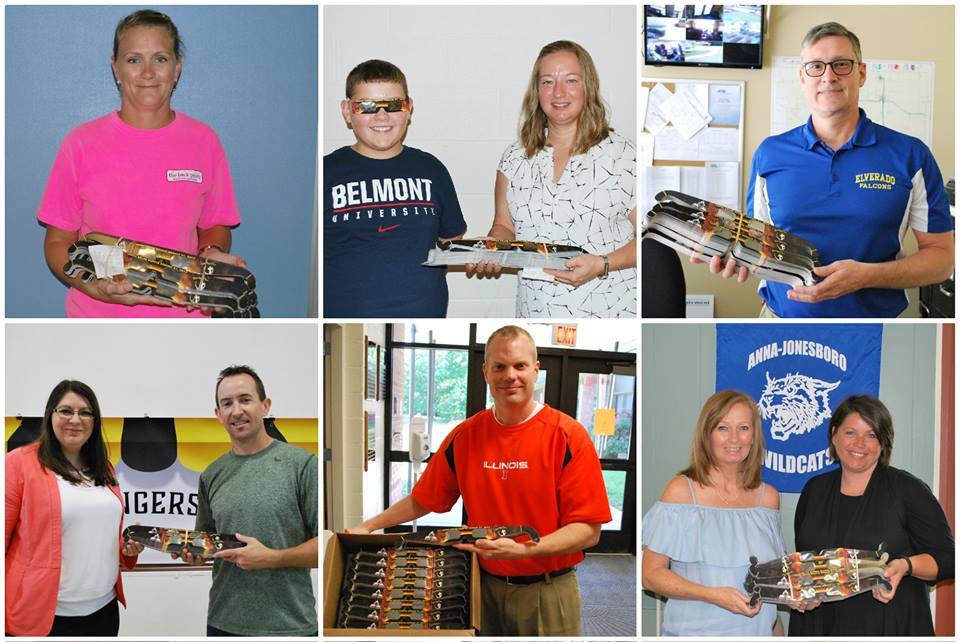 Egyptian Board of REALTORS® Donates Thousands of Glasses to Students
Egyptian Board of REALTORS® and Bald Knob Cross of Peace donated nearly 6,000 solar eclipse glasses to schools in Johnson, Union and Jackson Counties.
Egyptian Board of REALTORS® joined Bald Knob Cross of Peace in their effort to raise funds for the non-profit organization by renting out eclipse viewing space at Bald Knob Mountain.  Bald Knob Cross sits at 1034 feet above sea level, providing eclipse enthusiasts an excellent 360 unobstructed view of this astronomical event. Egyptian Board of REALTORS® provided promotional items including eclipse glasses for the event and ordered extra for 13 schools in need of eclipse glasses.
"Not only did we want to help with Bald Knob Cross of Peace's efforts, we also wanted to provide area schools the tools allowing students to safely view this unforgettable event," Egyptian Board of REALTORS® Association Executive, Charay Palmer said.
A total of 5,955 glasses were delivered. Schools that received glasses are County of Union  School District No. 43, Anna Jonesboro CHSD 81 School District, Dongola School District 66; Shawnee Community Unit School District, Buncombe Grade School, Cypress School District 64, Goreville Community Union District 1, New Simpson Hill School District 32, Vienna School District 55, Carbondale Elementary School District 95, Giant City Community Consolidated School District, Elverado Community School District 196, Desoto Consolidated School District.
"We want to show members of the community that we are not just interested in buying and selling real estate. We care about what's going on in our communities," Palmer said.
For more information contact Egyptian Board of REALTORS® at 618-364-0046.